Finding the unique Christmas gifts is often challenging. Coming up with the perfect Christmas gift for adult family members is often more challenging than finding Christmas gifts for younger members of the family.

We thought we would take the opportunity to create a mini essential Christmas gift buying guide. When it comes to the Holiday Season and Christmas Gifts ideas 2022 is time to put your thinking cap on.
What Are The Christmas Gift Rules
What about Christmas gift rules? Yes, there are a few gift giving rules that you should stick to.
1. Practical Christmas Gifts
Yes, there are many who appreciate a practical Christmas gift. Not all of us want to find something fun and frivolous underneath the tree on Christmas Day. When you know the person appreciates a more practical gift that is what you should buy.
Coffee makers and other kitchen gadgets often make fantastic Christmas gift for ladies. Men who like to spend time in the kitchen and cook may prefer a high quality skillet or pan set. Add a quality apron to the gift and you have an impressive present in the making.
2. Fun Christmas Gifts
There is room for fun Christmas gifts as well. Fun Christmas gifts are often given as token gifts. If you don't know someone very well, a fun gift is probably the main gift. But, when it comes down to loved ones we know well or family members, we often give fun gifts as extra gifts.
3. Hobby Gifts
What do you give someone who has a particular hobby? For instance, if you know that someone has a creative side to their personality, and enjoy a particular hobby, you should gear your gift towards that.
Try to think a little bit out of the box if you can. Just because someone is into Lego, it does not mean you have to buy a Lego building set. Many other quality manufacturers of building bricks and blocks light kit have sprung up right across the world.
4. The Cost of Christmas Gifts
Christmas decorations and Christmas gifts are often expensive. When you buy from brand manufacturers, you often have to pay a premium price for Christmas gifts.
Setting a budget is a good idea before you start thinking about what you should buy. Maybe you would like to give more expensive gifts to your nearest and dearest. Setting a different budget for work colleagues and acquaintances is absolutely fine. If you don't know someone well, you may even want to give them a gift voucher instead.
5. Shopping Online VS Shopping In Store
Where you should buy your unique Christmas gifts is probably the biggest debate you will have with yourself.
These days, we are spoiled for choice. We can shop online, remotely on TV shopping channels, or in stores. As long as you pick up the right gift for the right person, where you shop does not really matter.
Shopping online is convenient for most people. You don't need to leave the comfort of your own home. If you boss lets you use the computer during your lunch break, you can even shop at work. Then you have one less thing to worry about when you come home.
Christmas gift ideas 2022 are also popping up all over TV shopping networks. When you choose to go down this route, you normally place your order by phone. Many TV shopping networks also have websites where you can order products.
Shopping in stores for Christmas gifts is the traditional way. Many of us still enjoy going shopping in this way. It has a sense of expectations about it. The downside is that many of the Christmas gifts you find are not unique. Store-bought Christmas gifts are more mainstream.
Don't Miss Out The Best Building Lighting Set For Christmas:
LEGO® Ideas Home Alone
LEGO® Ideas Home Alone Lighting Set has to be one of the more unique Christmas gift sets in the last few years.

The best way to describe this Christmas toy Lighting Set set is a delight for all of the senses. It makes you think of all of those sweet treats and goodies waiting for you during the Holiday Season.

The LEGO® Ideas Home Alone Lighting Set is a very unique gift. Yes, it is a lighting set,but at the same time, it's the perfect addition to your beloved Christmas blocks, making it the centerpiece of the table.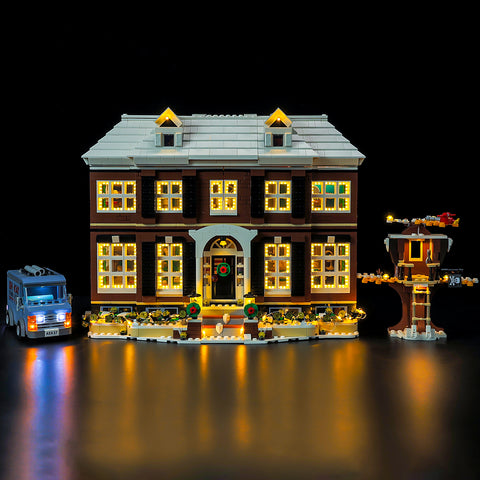 Reenact hilarious scenes from one of the most popular family Christmas dramas by building the LEGO Home Alone 21330 set. The set allows you to build your own brick version of the McCallister's house. Make the building and the scenarios come alive by customizing the set with our fascinating LEGO Lights.
There is another reason you should add the LEGO Home Alone 21330 to your Christmas list. It is the perfect Christmas building brick set that the entire family can take part in. It takes one person about 5 hours to complete the project.

But, Christmas is not all about time. Doing things together is important at Christmas. Why not order the LEGO Home Alone 21330 Lights and build it together as a family? It could be your Christmas Day activity.

The addition of LED lights is what makes the LEGO Home Alone 21330 perfect as part of any Christmas display.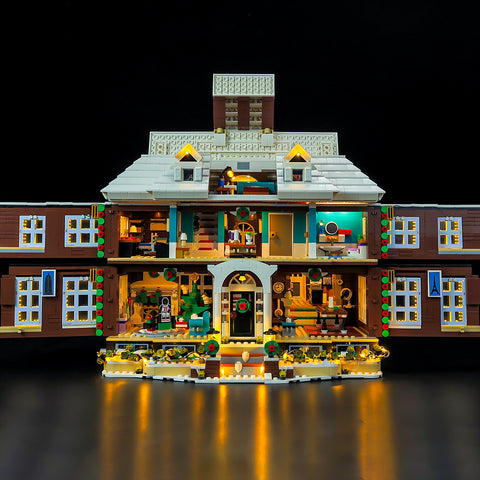 Conclusion
Placing your order with Kyglaring is easy. The company has an excellent website. LEGO® Ideas Home Alone is not the only Christmas gift or Seasonal gift available.

The design and creative team at Kyglaring loves nothing better than letting their imagination run riot. The site is packed with exciting building lighting sets that will inspire you and your imagination.

We hope that you find out guide to unique Christmas gifts useful. This is such a special time of the year. It is nice to get it right for everybody. That way, we can all enjoy not only sweet treats at Christmas, but having some fun together as well.